Stop the hassle!
Handling
Do you not want to dissatisfy clients about the settling damage(s)? Do you want to get rid of the discussions and suspicions? Is a higher promotor score your aim? Stop the hassle and give drivers the chance to record the damage(s) themselves. In their own time and at their own location.
The CarSelfScan makes it possible, read more.
Do it yourself
For laymen
We know you want to make the handling of contracts easier. Drivers also want that. We have created an app with which everyone can do a good inspection. It is a mandatory route, but it can be done at any place at any time. That makes drivers happy and already saves the first irritation.
For professionals
The CarSelfScan app is delivered entirely to your liking and layout, there is no other option. It suits you and your customers. It always provides a professional report that you can settle and record easily and profitably.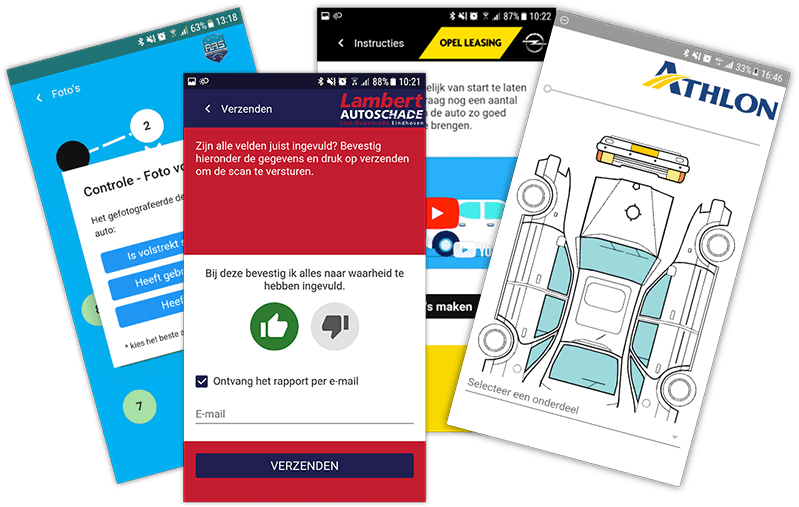 New and ahead
Better than the rest
More autonomy, more transparency, more speed and more quality. It fits the current time. In fact, your customers expect it from you. That's why the CarSelfScan app delivers that standard. Use it to keep workshop turnover in-house and add more.
Faster than the rest
As an extra we give you the opportunity to offer cars earlier and with better focus. Upstream Remakreting is what we call that. An offer within the Remarketing Pro platform. Because whoever is earlier earns more. With this combination, you will easier find buyers and bidders.
What it is
A tool to have non-professionals (drivers, hikers etc.) draw up car inspection reports. Setting transport in motion happens in one go. Interim checks have thus been rapidly introduced. The app connects with the Inspection platform, so handling and organizing are easy to manage.
What it does
Custom application to carry out an inspection or damage assessment with your own smartphone. Very simply, as a claims handler you create access, check your reports, and settle them without discussion. Then add new inspections on the same car and analyse the differences. It makes the life of a claim handler much easier and at the same time you meet the wishes of many fleet owners (secondment agencies for example).
Pro's
check Inspection reports for a fraction of the normal costs
check Prevents fuss about damage
check Easy insight on your driving fleet
checkPrepare drivers for final settlement
check Price every damage on every part
check Always tailor-made for your process
check Simply settle damage
check Available in any language
check Linkable to lease management applications
Do we have your interest?
Enter your details to download the CarSelfScan White Paper and/or receive more information.